Welcome to DAS GROUP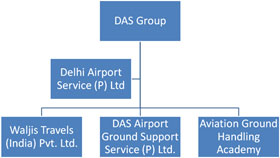 DAS Group is the parent company, it comprises of the following companies/firms:
Delhi Airport Service Private Limited
Waljis Travels (India) Pvt. Ltd.
DAS Airport Ground Support Service (P) Ltd.
Ground Handling Academy
The Group's business activity started in the year 1964 when S.K. Finance Corporation was set up as a Non-Banking Finance Company. The group diversified into transport, travel, tour operators and airport handling services when Delhi Airport Service Private Limited (DAS), which is the flagship company of the Group, was incorporated in the year 1971. Because of the foresight and sincerity of the promoters, over the years the business of the group has increased significantly and the Group has ambitious plans for expansion in its core business of transport and airport handling service activity in the new millennium.
Scope of Business
With the opening up of the Indian Economy and liberalisation policies being pursued by the Government of India, the Group sees great potential in its sphere of activity and is fully geared up to face the challenges of the new millennium.
Our Services
Terminal Services, DGCA, Passenger Services, Cargo Handling, Charter Airline, Tourism, Aircraft Rental, Helicopter Rental, Charter Services, Luxury Coaches, Luxury Car Rental
---
Our Clients
Past and Present Clients Include: